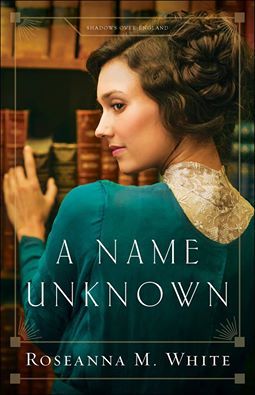 Published - July 2017, Bethany House
Series - Shadows Over England Book 1
Author - Roseanna M. White
Title - A Name Unknown
Format - ebook, paper
Find on
Amazon
About the book:
Rosemary Greshman is a thief. She's one of the best in the business actually. When she's approached to go undercover in order to find proof that Peter Holstein is either loyal to England or to Germany, Rosemary agrees. After all, those she calls family could really use the money. Peter Holstein is a bit of a recluse. He's got a few close friends, but his name and his ties to Germany cause people to doubt his loyalty. That and the fact that he's hiding something - he uses a pen name to write his popular adventure series. When Rosemary shows up as a librarian, Peter sees her as an answer to prayer. Yet as he slowly starts to draw close to her, Rosemary begins realize that he really is more than his name.
My Thoughts:
I really enjoyed this book. There was an element of suspense that I found refreshing. I was immediately drawn into the book. There were nights that I simply couldn't put it down.
I loved Rosemary's search. Not just for information about Peter, but also her deeper search into who she was and why bad things happen. I loved how loyal she was to her family, yet wasn't afraid to make a decision for herself.
I actually thought that Peter was rather endearing. In some ways he reminded me of Beast from Beauty and the Beast, but in others he didn't. I loved how he could express himself better in paper than verbally. I also loved his friends.
Overall, this was an excellent read.
I received a copy of this book for free from the publisher in order to give my honest opinion. My thoughts and opinions are my own.
Recommended to fans of WWI, Roseanna M. White, Kate Breslin, Jody Hedlund
Rating - 4 stars