This week's topic is the top ten books that I wouldn't mind Santa bringing this year. There's one problem with that - almost all of the books I want aren't published yet. So I changed it to the top ten books I've received as gifts from the time I was little to now. And Harry Potter isn't on this list because I never got the books as Christmas presents. I'd buy them myself.
My copies look about like this!
2. The Christy Miller Series, at least books 1-5 by Robin Jones Gunn - I cannot promote these books enough. These are perfect for any teen/pre-teen girl. I've known adults who enjoy them too.
The covers have changed about 4 times. These are my favorite covers, but not the ones I have.
3. The Californians by Lori Wick - These books include
Whatever Tomorrow Brings, As Time Goes By, Donovan's Daughter
. They still rank among my favorites by Lori.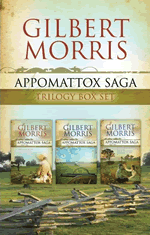 Not the covers I have.
7. The Appomattox Saga by Gilbert Morris - I'm not sure how many of the 10 books I received for Christmas, but I loved them.
Could't find all of the covers.
8. The Danielle Ross Mysteries by Gilbert Morris - I loved mysteries, and still do. I think I still have this series around somewhere.