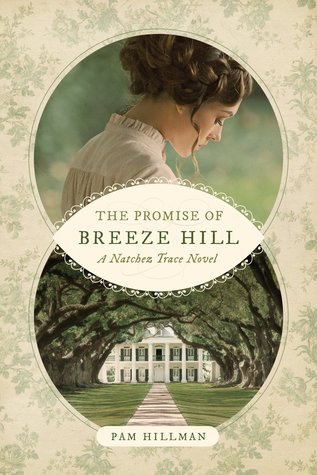 Published - August 2017, Tyndale
Series - Natchez Trace Book 1
Author - Pam Hillman
Title - The Promise of Breeze Hill
Format - ebook, paper
Find on
Amazon
About the book (Amazon):
Natchez, MS; 1791
Anxious for his brothers to join him on the rugged frontier along the Mississippi River, Connor O'Shea has no choice but to indenture himself as a carpenter in exchange for their passage from Ireland. But when he's sold to Isabella Bartholomew of Breeze Hill Plantation, Connor fears he'll repeat past mistakes and vows not to be tempted by the lovely lady.
The responsibilities of running Breeze Hill have fallen on Isabella's shoulders after her brother was found dead in the swamps along the Natchez Trace and a suspicious fire devastated their crops, almost destroyed their home, and left her father seriously injured. Even with Connor's help, Isabella fears she'll lose her family's plantation. Despite her growing feelings for the handsome Irish carpenter, she seriously considers accepting her wealthy and influential neighbor's proposal of marriage.
Soon, though, Connor realizes someone is out to eliminate the Bartholomew family. Can he set aside his own feelings to keep Isabella safe?
My Thoughts:
I honestly don't know why it took me so long to start this book. But it did. I was captivated by the first few pages. And while it took me about 2 weeks to actually read the book, I'm so glad that I finally got around to it.
I loved Connor. I loved how he was determined to keep Isabella safe at all costs. I loved how she was just as determined to not let him. I also enjoyed learning more about the history of Natchez as most of my knowledge of that town comes from the form of the musical Showboat.
I'm looking forward to seeing these characters again in the next one of the series, about Connor's brother Quinn.
I received a Kindle copy via NetGalley from the publisher. My thoughts and opinions are my own.
Recommended to fans of historical fiction, Julie Lessman, Pam Hillman, Jody Hedlund, Laura Frantz
Rating - 4 stars