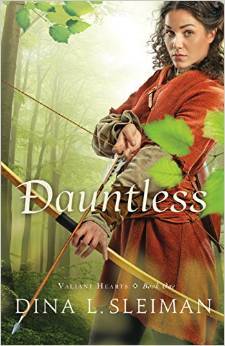 Published - March 2015, Bethany House Publishers
Series - Valiant Hears Book 1
Author - Dina L. Sleiman
Title - Dauntless
Format - ebook, paper
Find on
Amazon
Once a wealthy baron's daughter, Lady Merry Ellison is now living as an outlaw in the forest along with the orphaned children of her former village. Merry and the children soon earn the title of the "Ghosts of Farthingale Forest" because they steal food, clothing, and things to survive leaving no trace of their existence. Yet their fame soon catches the attention of the king when they commandeer a chest of gold meant for the king's treasury and fast become a target of the king's wrath. With bounties on their heads, provided they can be caught, Merry and the children move again and think they are safe. Timothy Grey, the 9th son of a baron, longs to preform some feat that will cause him to earn his own title and rise from obscurity. When he learns that the famous Ghosts of Farthingale Forest have appeared in Wyndeshire, near where he serves as an apprentice to a local earl, Timothy vows to capture them. But this band of thieves isn't all that Timothy expects. And once he comes face to face with their leader, he must decide what is more important - wealth, power, and prestige, or freedom and love.
I've been fascinated with the story of Robin Hood from the time I was little. Probably due in part to the old Errol Flynn movie and in part to the Disney film. So when I read that this was going to a female Robin Hood-ish story, I was certainly intrigued. With this book also being my first exposure to Dina Sleiman, I wasn't sure what to expect from her either.
The book captivated me. There was adventure. There was romance. There were precious characters. There was danger. It literally had everything to make this a wonderful adventure. And I was thrilled with it.
I think that my favorite character in the entire book was little Wren. She was just too precious. Though I also enjoyed Allen. I'm glad to know that the next book will be about him, because I felt that he deserves better than he got.
There were times that I wanted to shake both Merry and Timothy. I felt that they could have grown up a lot too. I understand that while one lost everything and struggled to survive, the other thrived. But these two did manage to push my buttons a lot, probably the reason this is only 4 stars and not 5.
Still, the book was a great adventure. I look forward to more.
I received this book for free from Bethany House Publishers for the purpose of reviewing. My thoughts and opinions are my own.
Recommended to fans of Robin Hood, adventures, young adult
Rating - 4 stars