Yes, I realize that today is Tuesday. Which normally means a Top Ten Tuesday post. Not happening today. I'm not overly thrilled with the topic. So instead, it's a review of Rick Riordan's newest, Sword of Summer.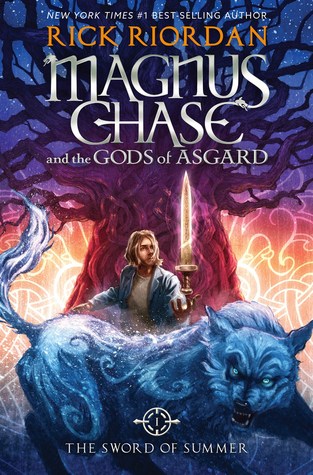 Published - October 6, 2015, Disney Hyperion
Author - Rick Riordan
Series - Magnus Chase & the Gods of Asgard
Title - The Sword of Summer
Format - hardcover, ebook, audio
Find on
Amazon
Two years ago, Magnus Chase lost his mother. She saved his life by pushing him out of the apartment before a fire kept her from joining him. He's now homeless. Living on the streets of Boston has taught him a few things. But he never expected that his street smarts would not come in handy the day that his uncle finally catches up with him. Soon he finds himself using magic he didn't know he was capable of to save hundreds of innocent lives. In the process, Magnus gets killed. But sometimes, in order for like to really start, you just have to die. He soon discovers that doorways between worlds are more common than one might expect. And that things aren't always what they seem. Even death.
Last fall when I said goodbye to the Heroes of Olympus, I was excited to see what was coming next from Rick Riordan. This time, he takes us into Norse mythology and it is nothing like the movies. This has probably been one of my most anticipated books this year.
The first person narration took me a little to get used to, since the five books in Heroes weren't told in first person and it has been a while since I read Percy Jackson. But I have to admit, I loved Magnus pretty quickly. I especially loved his connection to Annabeth.
There are some memorable characters in this book. There's Sam. There's Blitz and Hearth. Not to mention the usual interaction with gods and other beings. I actually found this book to have way more humor in it than I originally expected. I look forward to reading more about Magnus's adventures in the next book of the series.
I read this book for pure pleasure. My thoughts and opinions are my own.
Recommended to fans of Percy Jackson, Heroes of Olympus, Kane Chronicles, Harry Potter, mythology, young adult.
Rating - 4 stars