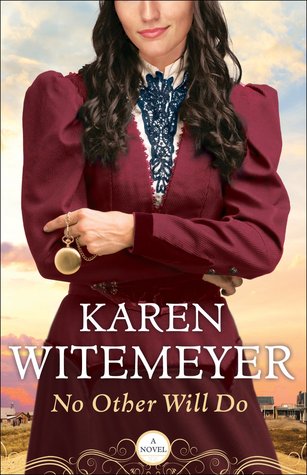 Published - June 2016, Bethany House
Series - Ladies of Harper Station Book 1
Author - Karen Witemeyer
Title - No Other Will Do
Format - ebook, paper, audio
Find on
Amazon
Emma Chandler doesn't need a man. After all, she's the founder of a women's colony in Harper's Station, Texas. But someone wants the women to leave and has been threatening the women. Emma doesn't know what else to do other than to send for her best friend, Malachi Shaw. Malachi has finally earned the respect that he has craved his entire life. Yet when he receives a telegram from Emma, he drops everything to go to Harper's Station and the girl who once saved his life. As Malachi sees Emma for the woman she's become, he can't help but realize that he's in love with her. But is there any hope that love can blossom between a woman who doesn't need a man and a man who will do anything to protect her?
I have read every one of Karen Witemeyer's books, and I've enjoyed each of them. This one was no exception. I love the ladies of Harper's Station. I love how they band together to find out who has been threatening them.
I loved both Malachi and Emma. Their interactions were, at times, hilarious. And at other times they were sweet. But still, I enjoyed these two characters.
I realize that this review is rather short. I think that's because I found the book delightful, and can't say anything else about it.
I received one copy from the publisher to review and a second copy (which I have given my mother) from the author to promote. My thoughts and opinions are my own.
Recommended to fans of Karen Witemeyer, Mary Connealy, Jody Hedlund, Regina Jennings
Rating - 4 stars