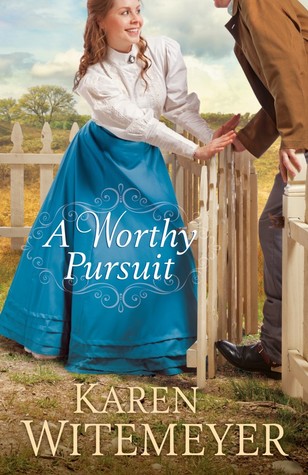 Published - June 2015, Bethany House Publishers
Author - Karen Witemeyer
Title - A Worthy Pursuit
Format - ebook, paper
Find on
Amazon
Stone Hammond is the best in the business. The business of retrieving people that is. When he is asked to track down and return a little girl to her grandfather, Stone is determined to locate the child and her teacher. Charlotte Atherton is the former headmistress at Sullivan's Academy for Exceptional Youths. When the school closed suddenly, Charlotte left with Lily and two boys, one an orphan and the other's parents were traveling in Europe and unable to come get him. She will do anything to keep her charges safe, especially Lily. Charlotte made a promise to Lily's mother to not let the child return to her grandfather. When Stone appears on her doorstep, Charlotte is even more determined that he not return Lily to her grandfather. When he discovers that Charlotte has documentation that legally lists her as Lily's guardian, Stone is determined to get to the bottom of the situation. What he learns casts a whole new light on his employer. Soon, he has one goal left - claim Charlotte's heart for his own.
I've always loved each book I've read by Karen Witemeyer. This one is no exception. While it doesn't stand in the same regard as either Short Straw Bride or Stealing the Preacher, it was a delightful read.
First, I loved Stone. I loved how he was good at what he did and that he was more concerned with the truth as opposed to the just collecting the reward. Once he met the children, I loved how he treated each one as someone special. And the way that he was with Charlotte made him a very noble gentleman.
I thought that Charlotte was a bit stiff. Sure it was the walls that she had built around herself that made her seem stiff, but I didn't really relate to her. I did find her determination to protect the children very admirable.
As with any of Karen's books, the characters are delightful, for the most part, and the story is very engaging. It's definitely one that her fans would enjoy reading. And for any historical fiction fan, this would be a delightful read.
I received this book for free from the author to help promote it. My thoughts and opinions are my own.
Recommended to fans of Karen Witemeyer, Mary Connealy, Jody Hedlund, historical fiction, Tamera Alexander
Rating - 4 stars