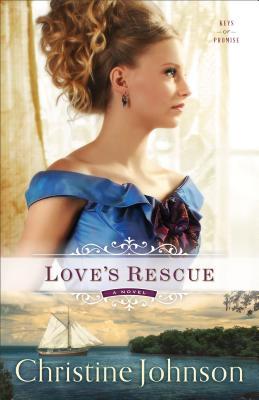 Published - June 2015, Revell Books, a division of Baker Publishing Group
Series - Keys of Promise Book 1
Author - Christine Johnson
Title - Love's Rescue
Format - ebook, paper
Find on
Amazon
When Elizabeth Benjamin learns of her mother's death, she sets sail at once for her home on Key West. There she hopes to make things right with the brother she hurt four years prior. Her journey home isn't easy. First her ship wrecks and she is rescued by Rourke O'Malley, the man she has loved for years. Then her father wants to marry her off. And her brother won't have anything to do with her. Just when Elizabeth feels completely alone, she discovers her mother's diary. As long held secrets come to light, Elizabeth realizes that her only options are to deny her father and follow her heart or to be forced into a marriage with a man who is not the upstanding man her father believes. Will she do her duty or follow her heart?
The cover on this book drew me in immediately. I also loved the secondary plot involving Elizabeth's slave girl and Rourke's first mate.
I thought that Elizabeth really was rather spoiled. She didn't appeal to me at all, at first. Rourke, on the other hand, I loved immediately! I kept picturing the swashbuckling hero of Johnny Depp from Pirates of the Caribbean but with Orlando Bloom's looks. I love the layers to Rourke. Where he was deep, Elizabeth seemed rather superficial.
Still, the book was good. It was a quick read, once I got into it. I'm looking forward to the next one in the series.
Fans of Christine Johnson's Love Inspired Historicals will enjoy this as will most historical fiction fans.
I received this book for free from Revell for the purpose of reviewing. My thoughts and opinions are my own.
Recommended to fans of historical fiction, pirates, Love Inspired Historical
Rating - 4 stars