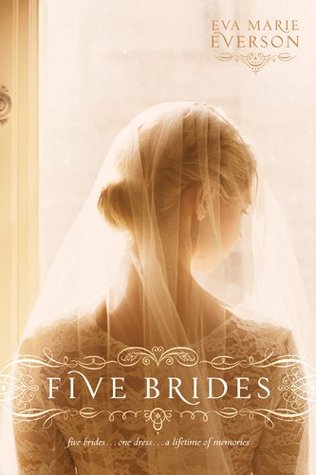 Published - May 2015, Tyndale House Publishers
Author - Eva Marie Everson
Title - Five Brides
Format - ebook, paper
Find on
Amazon
With five single women sharing an apartment together in the early 1950's Chicago, they each live their own independent lives. They rarely see each other let alone all have a day off at the same time. One rare occasion all five roommates were home on the same Saturday, and they spy a bridal gown in the window of the famous Carson, Pirie, Scott & Co. Each of the girls fell in love with the dress. They immediately ask to try on the dress - all five of them - though none of them have a date let alone a boyfriend. The girls decide to pool their money and purchase the dress. Yet how can one dress be shared among five completely different women? And which woman will end up with the dress?
I'll admit that I was intrigued by one dress being shared among five different women and the stories they would tell. So I requested to review this book. I wondered how the concept would work. I was impressed. This is the first book I've read by this author. And I enjoyed it immensely.
I think that the story line that intrigued me the most was Betty's story. While it appeared that Joan really was the main character, I actually liked Betty the best. Though I'd have still liked to have discovered what happened to the other girls AFTER their weddings. Betty, though, we kinda of found out what happened. And then of course we discover which of the girls ended up with the dress.
I'd be interested in reading more books by this author. I found the book to be a rather quick read, once I started it that is.
I received the Kindle version of this book for free from Tyndale via NetGalley for the purpose of reviewing. My thoughts and opinions are my own.
Recommended to fans of historical fiction, women's fiction, Susan May Warren, Deborah Raney, Katie Ganshert,
Rating - 4 stars