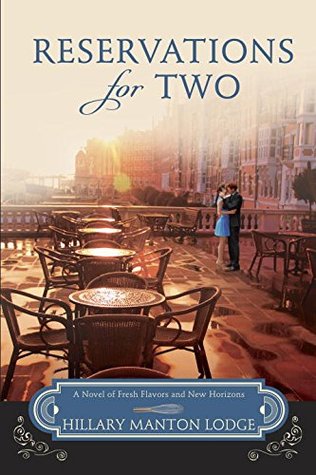 Published - April 2015, Waterbrook/Multnomah
Series - Two Blue Doors Book 2
Author - Hillary Manton Lodge
Title - Reservations for Two
Format - paper, ebook
Find on
Amazon
Summary from Goodreads:
Food writer-turned-restaurateur Juliette D'Alisa has more than enough on her plate. While her trip to Provence might have unlocked new answers to her grandmother's past, it's also provided new complications in the form of Neil McLaren, the man she can't give up.
Juliette and Neil find romance simple as they travel through Provence and Tuscany together, but life back home presents a different set of challenges. Juliette has a restaurant to open, a mother combating serious illness, and a family legacy of secrets to untangle – how does Neil, living so far away in Memphis, fit into to her life?
As she confronts an uncertain future, Juliette can't help but wish that life could be as straightforward as her chocolate chip cookie recipe. Can her French grandmother's letters from the 1940's provide wisdom to guide her present? Or will every new insight create a fresh batch of mysteries?
My Thoughts:
First this book stands alone. It's also the first time I have read one of Hillary Manton Lodge's books. And honestly, it didn't keep my interest. I LOVED the recipes in the book, but I wasn't wanting to keep reading. I struggled with it. Sure parts of it intrigued me, but those parts weren't enough to keep me WANTING to read the book.
I did love the trip through the European countryside. I felt like I was there with the characters. But I felt really kinda blah about the characters and their relationship. Would I try it again? Maybe someday, especially if I get a chance to read the first book.
I received the Kindle version of this book for free from Blogging for Books for the Purpose of reviewing. I was not required to like the book, only to give my honest opinion. My thoughts and opinions are my own.
Rating - 3 stars