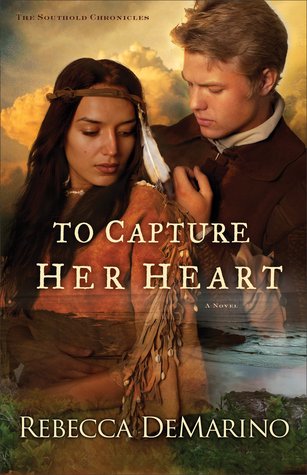 Published - July 2015, Revell Books, a division of Baker Publishing Group
Series - The Southold Chronicles Book 2
Author - Rebecca DeMarino
Title - To Capture Her Heart
Format - ebook, paper
Find on
Amazon
In 1653, Heather Flower, a Montauk princess, is celebrating her wedding when her groom is killed and she is taken captive. Though the English pay her ransom, a handsome Dutchman, Dirk Van Buren is the one who ultimately rescues her. Still grieving, Heather Flower goes to stay with her aunt near the English settlement of Southold where her longtime friend, Benjamin Horton, lives with his parents and siblings. Both of the young men are determined to win Heather Flower's heart, but which will she choose?
I like history. This one is very well done historically. The author has obviously researched the time period and the Indians. I also like to be given a little credit as a reader. I'm an intelligent person, and while I know that the average adult book is written on probably a 7th or 8th grade reading level, I have never felt like the author was talking down to the reader. I felt that way in this book. I'm not saying that the story wasn't good - it was, but I'm saying that I felt that I was being "talked down to" as a reader. I felt like the author was purposely trying to insult her reader's intelligence. That said, let me go on with what I enjoyed about the book.
I enjoyed getting to see Benjamin grown up. In the first book, he was a child. In this one, he's a young man. I also enjoyed getting to see the Horton family growing and Mary and Barnabas adjusting to the changes of their growing family. I also enjoyed the history. There is so much I didn't know about America's early history that I found rather fascinating.
The love triangle was obvious and felt, too me at least, that it was just there. I knew early on who Heather Flower would choose. I felt that aside from Benjamin and his family, that the characters weren't developed as well as they could have been.
I will say that the excerpt for the third book has me wanting to read it.
I received this book for free from Revell Books for the purpose of reviewing. My thoughts and opinions are my own. I was not required to like the book, only give my honest opinion.
Recommended to fans of historical fiction, early American history
Rating - 3 stars