Note - There is no Top Ten Tuesday post today. I didn't care for the topic. But it will return next Tuesday. So today, enjoy the book review.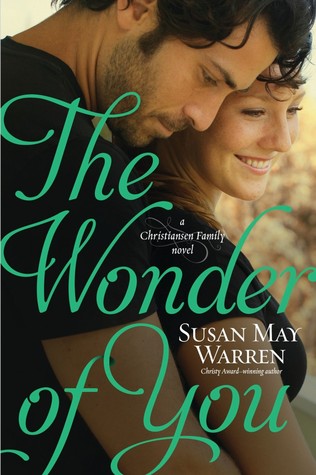 Published - July 2015, Tyndale House Publishers
Series - Christiansen Family Book 5
Author - Susan May Warren
Title - The Wonder of You
Format - ebook, paper
Find on
Amazon
Amelia Christiansen has returned from Europe with a broken heart. She isn't ready for the adventures that life wants to give her. She certainly doesn't expect to see the man who broke her heart appear on her family's doorstep with an apology. Roark St. John is the heir to an European hotel dynasty. He's spent the last several years roaming from location to location hiding from his past. When he met Amelia, he wanted to stop running. After breaking her heart, he knows that he has no choice but to follow her and seek her forgiveness and hopefully a second chance. Amelia's torn between Roark and her high school sweetheart who makes it known that he wants to get back together with her. Will Amelia figure out that her own place in the world may need her to find her wings and fly?
I've loved each book in this series. This one is no different. It's helpful to read the series in order, though it is not necessary.
I LOVED Roark! I loved how he pursued Amelia. I also loved how he was willing to change once his faults were brought to his attention. And Amelia, she's not my favorite of the siblings, but I did enjoy her.
I did not like Seth, Amelia's high school sweetheart. I found him to be overbearing and rude. As I was reading I kept asking myself what did she see in him.
The Christiansen family hasn't had an easy go of it. And this book shows Casper heading off to find Owen, the youngest brother, while the rest of the family deals with the bombshell of Grace's elopement. But I love how they come together as a family and support one another.
Fans of this series will love it.
I received this book for free from Tyndale House Books for the purpose of reviewing. My thoughts and opinions are my own.
Recommended to fans of contemporary romance
Rating - 4 stars